TTM Tag Generator
This application encodes text into 6-bit ASCII and generates a TTM tag for use. The TTM tag can then be saved as a bitmap and embedded into a printed document.
Click Here To Download
A sample icon is displayed below: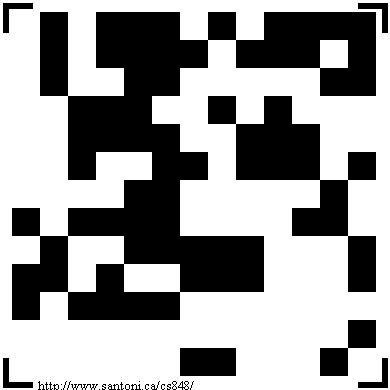 This icon was created with the icon builder utility, and contains the URL of this page (www.santoni.ca/cs848/).
The image specification is as follows: 1% padding around the perimeter of the image
2% width of the angle brackets
1% spacing between the angle brackets and the 'data' section
10% length of angle brackets (both width and height).
The data portion is evenly divided by the number of bits placed there (13-bits in this example). There is no spacing between the bits. The 13th column and 13th row contains parity bits (even parity). The last bit (169th bit) is not used.